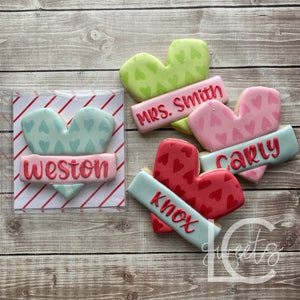 Perfect treat for anyone you love! 
A single large (4") cookie sealed, boxed, ready to gift! Personalize with your child's name, your spouses silly pet name, a teachers name, etc. 

Please select a pick up date from the drop down menu, provide your personalization and select the desired color. If ordering multiple, separate each personalization with a semi-colon ";" If no color is selected, I will choose randomly. 
Colors available: Blue, Green, Pink or Red
LOCAL PICK UP ONLY. I am located between Boyd & Decatur off 730. Orders will be ready for pick up on the date and time you select. It is your responsibility to remember to pick up your cookies. Please contact me if something comes up and you cannot make your time. I will do my best to work with you! 
**ALL SALES ARE FINAL. NO REFUNDS OR CANCELLATIONS.**